Our Conservation Efforts
MetroParks Conservation Objectives
Our objectives include:
Protect drinking water sources
Preserve and protect watersheds
Preserve wildlife habitat
Protect important birding areas
Protect plant and animal diversity
Conservation education
About MetroParks Conservation
No less than 80% of MetroParks' properties are to be managed in a mostly natural undeveloped state. Conservation management of specific areas to preserve diverse natural habitats within Butler County requires constant work. MetroParks has comprehensive conservation management goals, which are reflected in MetroParks master plans. Additional management objectives include planting native grasses, wildflowers and trees that will support and nurture the areas by maintaining the growth of plant life at an optimal height for indigenous wildlife.
Throughout MetroParks, you will often see "Conservation underway" signage, such as this example which indicates that conservation work is being undertaken in a particular area. The seemingly barren area in this photo will return to a beautiful natural habitat as a result of this effort.
Common threats to MetroParks natural resources and some common MetroParks management techniques are listed below.
Invasive Plant Threats
Invasive plants are non-native species that have spread into native or minimally managed plant systems. These plants cause harm by developing self-sustaining populations that dominate and/or disrupt native ecosystems. They threaten wildlife habitats, important birding areas, and overall plant and animal diversity.
There are various categories of Invasive Plants.
Invasive: (a non-indigenous plant with the biologic potential for rapid and widespread dispersion and establishment in minimally managed habitats)
Likely Invasive: (a non-native species that is naturalized in Ohio but not yet widespread)
Potentially Invasive: (a non-native species not currently known to exist in Ohio, but expected to become invasive in the future).
Ongoing Efforts to Control the Invasive Plant Threat
The best method of control is prevention. Preventing intentional spread through horticulture, and removing or killing invasive plants when they are first spotted, can avoid significant problems later. Control methods include:
Prescribed Fires
Hand-Pulling
Herbicides - Selected Herbicides are occasionally and selectively applied by certified employees or contractors.
Mechanical Equipment
Prescribed Fires
Ohio was once covered by about 10% grasslands which provided much needed nesting, foraging and escape cover for many species.
Habitat management and conservation ensures that these natural areas provide food, water and shelter for all wildlife. One habitat management practice is the use of prescribed fires to help maintain these grasslands by burning off woody growth, invasive species and old thatch. Also, many of the grasses and forbs require heat in order for the seeds to germinate and this ensures the high quality of this ecosystem.
A Certified Prescribed Fire Manager oversees the prescribed fires for MetroParks and is assisted by trained park staff, volunteers and often the local Fire Department.
Mechanical Equipment
Mechanical equipment, such as a skidsteer with Forestry attachment, is used to grind the above ground species. (Please Note: This equipment is often mistaken for excavation and building equipment and may leave the landscape temporarily looking barren, until the new wanted growth has time to re-appear.) When you see an area like this appear with "Conservation Work Underway" sign you will know that this is an active conservation project and not construction efforts.
Examples of Areas Cleared of Invasive Plant Species by Mechanical Equipment
Water Contamination and Waste Threat
Water resources are one of any area's greatest assets. The water supply-both groundwater and surface water- provide abundant resources to each community. Clean, safe drinking water is essential to human, wildlife, plant and aquatic life.
Ongoing Efforts to Address Water Contamination and Waste Threat
Green Restroom
Great Miami River Planting
Great Miami Cleansweep
"Green" Restroom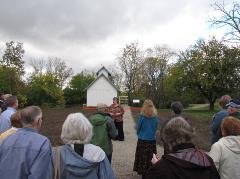 After securing funding of $70,000 in grants and donations from individuals and foundations, the Friends of Chrisholm funded the construction on a prototype "green" composting public restroom at the Chrisholm Historic Farmstead located just south of Trenton.
This "off the grid" restroom was the first of its kind in Butler County and is designed to reduce waste and save water. Additionally, new interpretive signage installed in 2012 enhances the ability to use this environmentally friendly restroom as a teaching tool for visitors about living sustainably.
Funding for this project was made possible by donations from the Middletown Community Foundation, The Fitton Family Foundation, Duke Energy, the Butler Rural Electric Community Connection, SHP Architects and the members and supporters of the Friends of Chrisholm. The Friends of Chrisholm permanently donated the facility to MetroParks as a positive enhancement to the property.
HUNTING
MetroParks is committed to maintaining a balanced ecosystem that affords for the healthy growth of the natural environment. White-tailed deer have no natural predators, and the herd has grown tremendously within certain areas of MetroParks.
As part of a wildlife management conservation effort, each year MetroParks assesses the need for a Controlled Bow Hunting Program. If it is determined that there is an ecological need for this program, information and the properties selected for the program will be posted on our web site in the NEWS & Alerts section. '
Anyone who desires to participate in the Controlled Bow Hunting Program must correctly complete the 2020-2021-Bow Hunting Application by hand, and the application must be signed and dated by the applicant. This application, along with a $20 non-refundable application fee, must be submitted to MetroParks' Administrative offices at 2051 Timberman Rd., Hamilton, OH 45013 by the deadline date and time posted to be valid. If mailed, applications must be postmarked a minimum of 2 days prior to the deadline date. The application document can be obtained from MetroParks' Administrative offices located at 2051 Timberman Rd, Hamilton, OH 45013 or from the link above.
The complete Wildlife Management Policy Controlled Bow Hunting Program can be found on the Policies & Procedures page.
To be eligible, applicants must be 18 years old, have a valid Ohio hunting license, and are required to pass a proficiency qualification. Applicants who have submitted a valid application that includes the non-refundable $20 application fee with their submission will be scheduled for a proficiency qualifications. The location of the proficiency qualification will be communicated to the applicants.
Applicants who qualify by demonstrating proficiency must attend a lottery drawing, if needed, to be eligible for selection, where MetroParks will select primary participants for this year's season. Specific details regarding the location of the lottery drawing will be provided to those who qualify. All other applicants not selected as a primary participant will be placed on an alternate participant list.
Questions can be directed to Visitor Services at 513.867.5835 during regular business hours.
We offer a periodic newsletter with information about upcoming events and programs.
Create Family fun
MetroParks provides opportunities to experience open green spaces near home. Pick the time of day that fits your busy schedule to spend some time with nature. Hike a trail, wander through natural habitats, view wildlife or just play! Please consider donating to further MetroParks ability to provide these resources.