Chrisholm MetroPark
Historic Farmstead Area
Chrisholm Picnic Shelter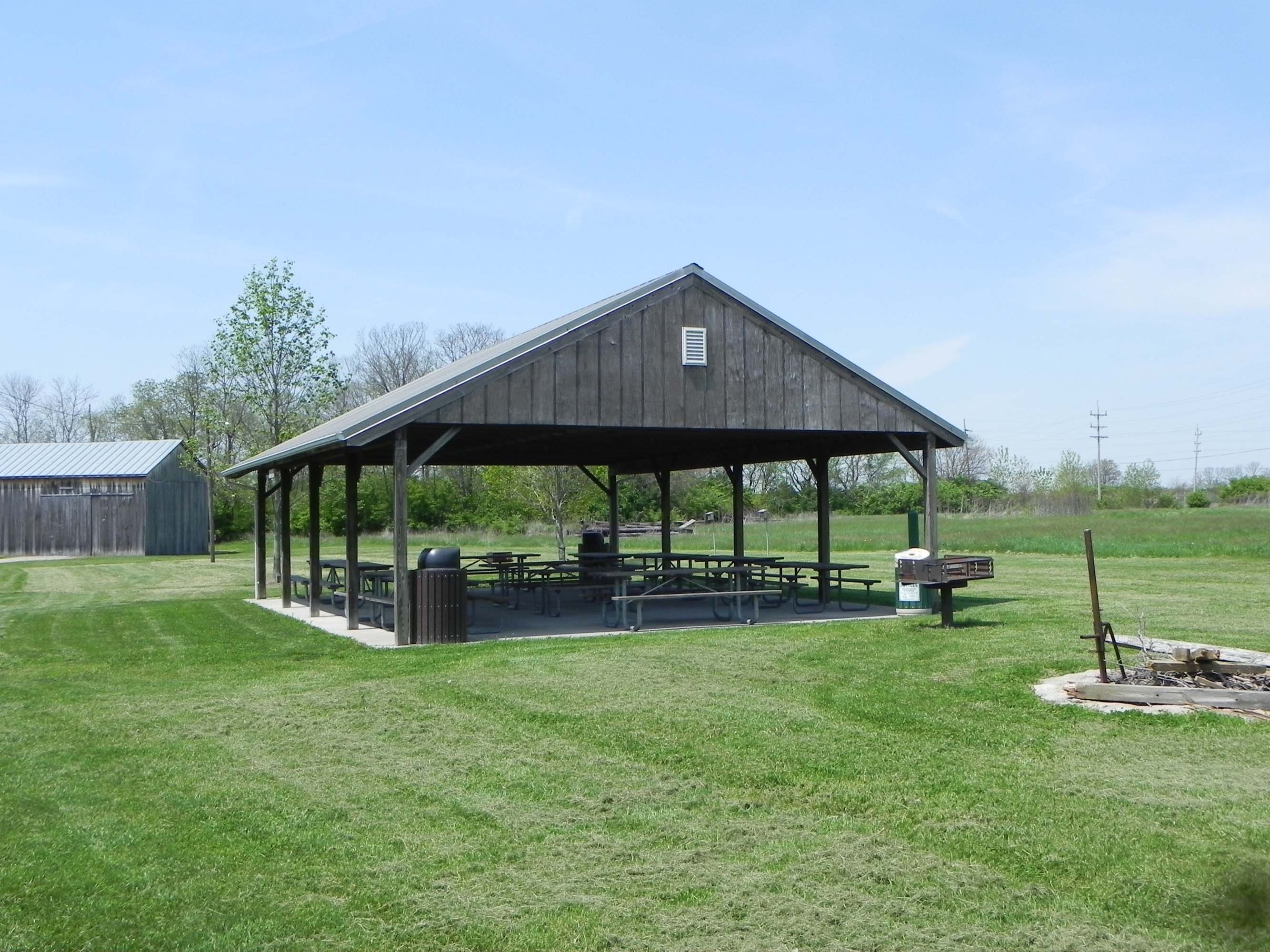 The Chrisholm Picnic Shelter is a reservable shelter located behind the historic Augspurger House.
It will accommodate groups of 75-80 people and has access to electric and water.
This shelter is equipped with 12, 8 ft. picnic tables, 1 large 2-sided grill and a fire pit*.
A composting restroom is located within walking distance of the shelter.
Rosemont Barn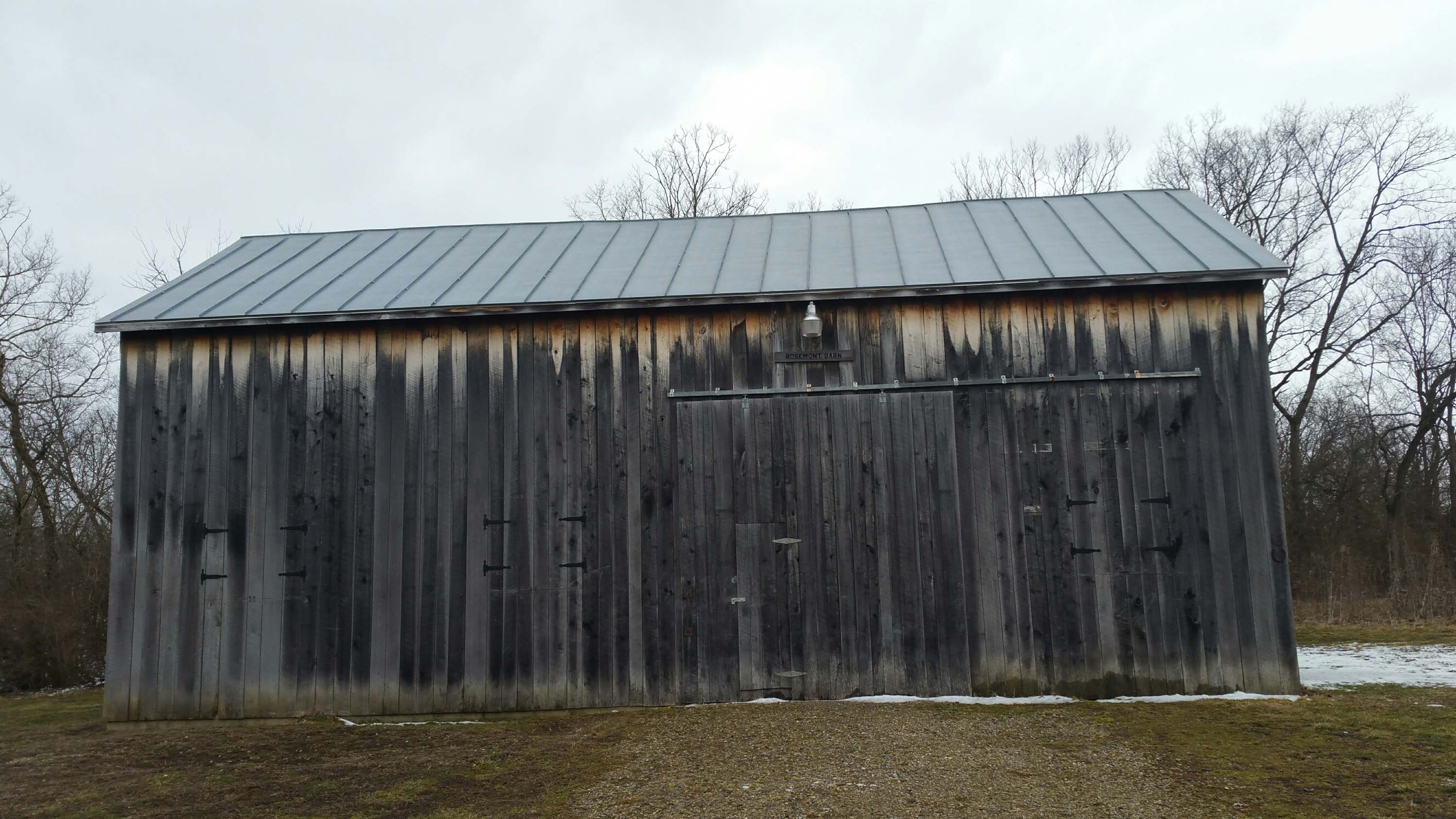 The Rosemont Barn will accommodate 50-100 people and can be used for personal activities such as small holiday parties, showers, birthday parties, intimate wedding receptions or family gatherings.
The barn has wood siding and beautiful rustic qualities including old Edison style string lights hanging from the ceiling and a metal roof.
Upon arrival at the park, you may go directly to the barn and it will be unlocked and ready for use.
The barn has electricity and ceiling fans, but no heat or air-conditioning.
Guests must provide their own tables & chairs, table linens and table décor.
Guests must also organize their own setup and cleanup of the property.
Candles may be used if they are in an enclosed container.
This is designated as a smoke-free facility. Smoking in any part of the barn area is prohibited.
There is a very clean composting restroom facility within walking distance across the open field area on the park grounds.
General Information:
A farm themed Nature Playscape along with plenty of field area for games and activities are available.
When reserved, there will be a "Reserved" sign on the shelter indicating that the shelter has been reserved for the day.
Shelter reservations are daily from 8am to dusk.
Upon departure, please leave area clean and all garbage placed in containers provided. (Visitors may want to bring extra trash bags.)
Dogs are allowed but must be kept on a leash, no longer than 6' in length. Please clean up after your pets.

No Alcoholic beverages

are permitted in this park.
All vehicles must park in designated parking spaces. The parking area at Chrisholm currently consists of 28 parking spaces. There is additional parking at Woodsdale Park, located at 1917 Woodsdale Road.
There may be other events scheduled at the same time as your event. Consequently, parking may be limited at times.
Use of firearms and fireworks is strictly prohibited in all areas of the park.
*

Per MetroParks' policy, firewood may NOT be brought into the park

. Firewood for the fire pit must be purchased through MetroParks and is available for $5 per bundle. Firewood can be purchased up until Noon, 2 days prior to your reservation by calling the MetroParks Administrative Office weekdays at 513-867-5835 9am-5pm. Please keep in mind that the office is closed on legal holidays
Motor Vehicle Permit required. FREE to Butler County Residents. Non-Residents $5/daily or $10 annually. A Group Motor Vehicle Permit for non-Butler County residents can be purchased in advance with your reservation for $25.

We offer a weekly newsletter with information about upcoming events and programs. We'll also send breaking news and alerts via email.
Create Family fun
MetroParks provides opportunities to experience open green spaces near home. Pick the time of day that fits your busy schedule to spend some time with nature. Hike a trail, wander through natural habitats, view wildlife or just play! Please consider donating to further MetroParks ability to provide these resources.